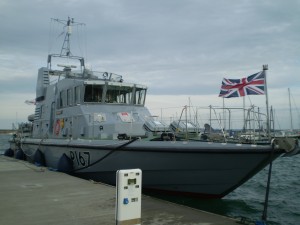 HMS Exploit recently completed a successful Slip period at Holyhead following an intensive four week work program. As always, the Holyhead refit team pulled out all the stops to ensure the Contract Acceptance Date was met,  the vessel was returned to service on Monday the 5th October following a rigorous trials program.
The refit team at Holyhead Marine would like to wish Exploit's MEO Mike Spooner all the very best as he departs from Ship's Company in the near future.
Work has already started on HMS Charger, the next Archer Class vessel in this refit program. Word on her progress soon.
Posted on: 2009-10-05