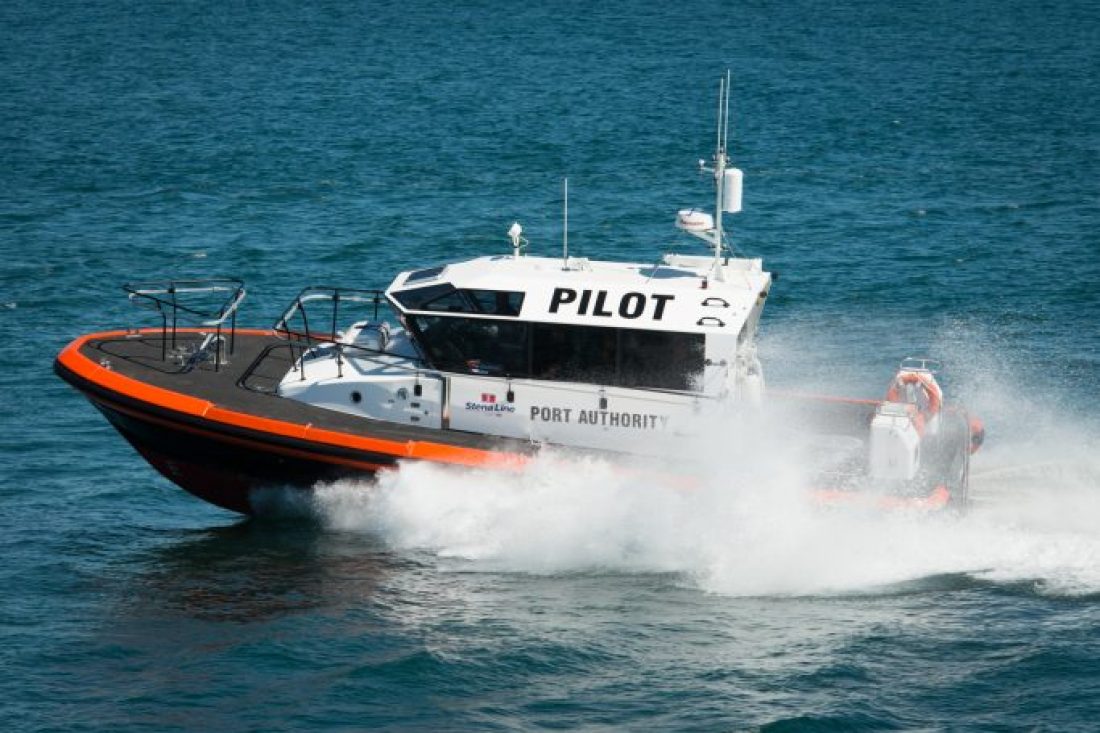 Holyhead Marine have just delivered their first 13m Pilot Boat to Stena Line Ports in Holyhead.  This new 13m GRP Pilot Boat, like all of Holyhead Marine's Pilot Boats, has been designed by Camarc Design and has some particularly nice features such as the resiliently mounted superstructure which reduces noise and vibration and thus increases the comfort for the two crew and four pilots, and also the engines are installed with V drive gearboxes so that there is easy access for servicing and maintenance. Access to the engines is through a large access hatch on the aft deck and not, as would be more common, through a hatch in the superstructure.
The boat is also fitted with the Camarc Design's unique "Popsure" advanced Pilot Boat fendering system, this system has been proven in-service with many operators worldwide with some craft having been in service since 1999. The main features of this system being the ability to dissipate impact loads over a large area and contact surface being extremely hard wearing. This system is only available on Camarc Design Pilot Boats.
The vessel is powered by a pair of Volvo D9 marine diesel engines which develop 425bhp @ 2200 RPM achieves a max speed in excess of 27 knots when fully loaded.
In terms of fit-out the vessel has suspension seating for four pilots and two crew with the helm seat located on the centreline of the vessel in front of a console containing all the necessary controls and instruments, all within easy reach.  The vessel is also fitted with bonded window which further increases the visibility for the helm by allowing narrower window mullions than would be normal with framed windows.
Crew comfort is further enhanced by the inclusion of a climate control system which will either heat or cool the wheelhouse as required.  Electrical systems on board are controlled through a CAN-BUS electrical control and distribution system.
Captain Wyn Parry, Stena Line's Irish Sea South Ports Manager said: "We're delighted that our acquisition of the new pilot boat in Holyhead has allowed us to invest in and support the local economy.  It was important for Stena Line to try and support the local maritime industry where possible and we are delighted with the design and build quality that Holyhead Marine have been able to provide for us.  The new pilot boat will prove essential to the daily operations of the port in terms of embarking and disembarking the ports pilots safely on and off the ships they help guide into and out of the harbour."
Nick Colin York, Managing Director of Holyhead Marine Services Ltd commented: "We're very proud of the hard work that has gone into the building and design of the new pilot boat.  This craft is a welcome addition to Holyhead Marine's portfolio of composite pilot boats designed by Camarc Design and has extended the existing range to include this smaller and more economic model"
"The Port Authority also chose to name the vessel St Columba" added Nick.
Posted on: 2017-08-29